What is Zoo2You?
Zoo2You is an animal outreach program designed to both entertain and educate audiences about some of the incredible animals with which we share our planet. Zoo2You is a hands-on event that uses tame, friendly, and well socialized animals that have been raised from babies by us at our facility. Our goal is to enthrall children and adults alike by allowing them the rare opportunity to see, touch, hold and learn about rare and beautiful animals from around the world.
See our animals - and the wonder and awe they inspire
in action at St. Clair College!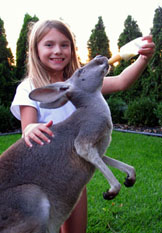 Zoo2You brings an incredible variety of animals to each and every show. You will see reptiles, amphibians, insects, and mammals. Our shows are adaptable to any size audience, and any type of occasion. We are perfect for birthday parties, classrooms of all grades, daycares, or any special event, be it corporate, charity, or promotion. Regardless of the occasion, rest assured your audience will have a time to remember.
The feedback to our shows has been simply incredible.
Throughout this website you'll find information about our animals, our philosophies about the treatment of animals, how to book your very own Zoo2You party, and much more!
What to do @ Zoo2You?
Attention Teachers & Principals!

Click here to download an information package to learn how to get Zoo2You at your school today (PDF Format).